---
SIUPREM, Inc. raises nearly $500,000 for American Cancer Society
---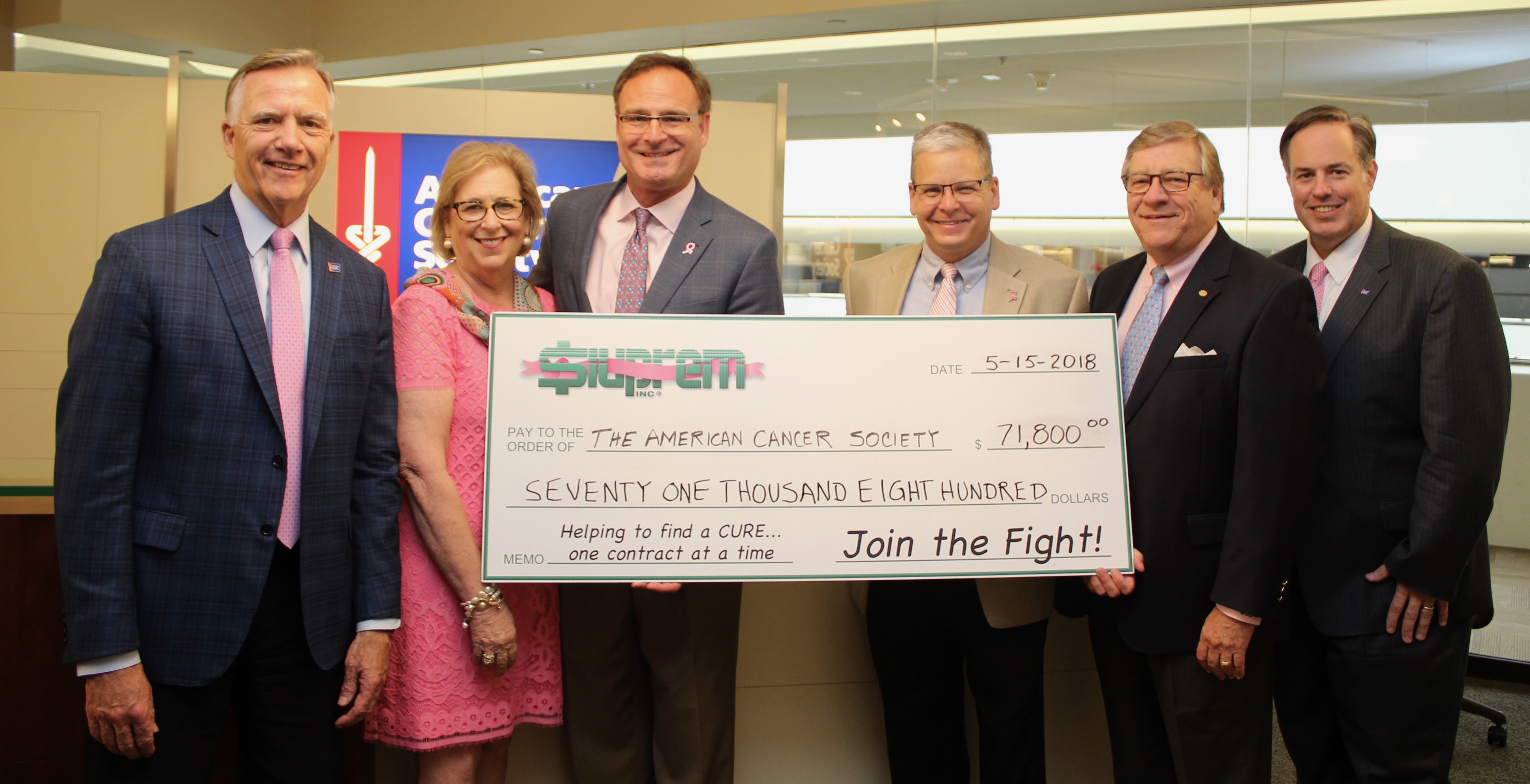 ATLANTA – Committed to supporting the community and the fight against breast cancer, Alpharetta-based SIUPREM, Inc., a full-service independently owned premium finance company, presented the American Cancer Society with a check for $71,800 as part of its SIUPREM Cares program. The donation boosted the total raised during the organization's 8-year partnership with the Society to nearly $500,000.
"We are extremely grateful to SIUPREM's leadership, independent insurance agents, and customers for their generosity," says Brant Woodward, executive vice president, Southeast Region, American Cancer Society. "Breast cancer is a devastating disease that strikes nearly 270,000 women and men in the United States every year, including 7,490 women in Georgia. While we are making progress against breast cancer with improved detection and treatment, there is much more work to be done. The success of the SIUPREM Cares campaign is helping us to achieve results."
Woodward notes the dedication of SIUPREM's independent insurance agencies has helped the company grow from supporter, to flagship sponsor, to presenting sponsor of the American Cancer Society Making Strides Against Breast Cancer walk in Atlanta.
"Independent Insurance Agents for a Cure, through SIUPREM Cares, has seen its ranks grow from a small but dedicated group of 16 walkers to well over 1,500 participants, representing more than 200 independent insurance agencies across the Southeast," says John LaMay, president, SIUPREM and CFO of Southern Insurance Companies. "We have the opportunity and feel the obligation to encourage and challenge our independent insurance agencies to help fight breast cancer and to sign up for the Agency Challenge. For us, it's about building lasting relationships within the communities where we work and live, and we will continue supporting the fight against breast cancer by committing $5 for each commercial policy financed through SIUPREM in 2018."
This year's Making Strides Against Breast Cancer walk will take place Saturday, Oct. 27, at SunTrust Park. More information, visit makingstrideswalk.org. To learn more about SIUPREM Cares, go to SIUPREMcares.com.
# # #
Photo caption:
(From left) Gary Reedy, CEO, American Cancer Society; Donna Glenn, director of Agency Relations, Southern Insurance Underwriters; John LaMay, president, SIUPREM and CFO of Southern Insurance Companies; Bruce Mackinson, AVP Business Development, National Sales Manager, SIUPREM Inc.; Wesley Duesenberg, Jr., CEO, Southern Insurance Companies.
# # #
About the American Cancer Society:
The American Cancer Society is a global grassroots force of 1.5 million volunteers dedicated to saving lives, celebrating lives, and leading the fight for a world without cancer. From breakthrough research, to free lodging near treatment, a 24/7/365 live helpline, free rides to treatment, and convening powerful activists to create awareness and impact, the Society is the attacking cancer from every angle. For more information go to www.cancer.org.